Сервисы google play
Differences in Gapps
As mentioned earlier, Google Apps are available in many different variants. Let's take a look at them and see what are the major differences among all the Gapps package available.
Google Apps for Different Platforms
The following is a list of platforms supported by Google Apps and where they could run properly. They are listed as follows:
You can read up more in detail about these platform types and what they offer in the article below. Just FYI, most of our recent phones are all based on the ARM64 architecture. So that is what you will most probably need.
ARM
ARM used to be the most popular 32-bit platform for Android phones. Almost every chipset and phone hardware before 2016 was powered by a 32-bit platform. Phones older than that period will need Gapps based on this platform. Do not try to run Gapps that were made for the 64-bit systems before that could crash your phone.
ARM64
ARM64 is the currently used, most popular platform. Almost all new Android phones and tablets are based on the 64-bit system. Phones moved on to this system in the late 2016 and the very early adopters include: Google Nexus 6P, Nexus 5X etc. Safe to say, every flagship phone since last year is based on 64-bit.
x86
Intel chipsets are very uncommon on Android phones. Only a handful of devices are based on the Intel x86 platform. One device that comes to mind is Asus Zenfone. We doubt you will hardly ever need Gapps for the x86 platform.
x86_64
Gapps for the x86_64 are more commonly used on Android emulators. All these emulators are optimized and based on Intel chipsets. And since all computers now support 64-bit systems, this should be your choice of platform when downloading Gapps for Android emulators. This is useful for development purposes or if you just want to run and install Google apps on your PC or Mac.
Gapps Variants – Which one should you download?
Here is a list of the variants offered and the differences among them. From here you can decide the one you want to download and why. In our opinion, you should go with the nano variant as it is enough for you to start using Google services and apps and you can later download more apps as needed.
There are seven different variants available. They are listed as below:
pico
nano
micro
mini
full
stock
super
For more details on them and which you to go for, you can read all about them in the following paragraphs.
pico
This is the bare minimum set of GApps that is required to run Google services on an Android device. It only comes with a small set of Google apps like the Google Search app, YouTube, Google Play Store etc. This is a popular choice by many if you are careful about what apps use your internal storage of the phone.
nano
nano is our favourite choice of GApps. It comes with the basic Google functionality and some more that is not available from the Google Play Store. It is slightly bigger in size than pico and gets the job done well. This is the package / variant we have covered below for you to download.
micro
micro GApps package include everything from pico and nano packages. Plus, it also comes with a limited set of apps i.e. Gmail, Google Calendar, Google Assistant and some extra functionality as well.
mini
This set brings even more Google apps along with the basic functionality. You can expect most of the popular Google apps included as part of this package.
full
If you own an OEM based phone and your custom ROM already includes the stock apps from the OEM's platform, you should go with the full GApps package. Mainly because the full package will install all the recommended Google apps and will not replace the OEM-based stock apps.
stock
This is very similar to the full package, but this will replace any non-Google apps available. For example, if there is already a Calendar app available in the ROM, it will be replaced with the Google Calendar version from the Play Store.
super
If you are like me who wants every Google app installed on the phone, then this Super package is the way to go for. It comes with every Google app that has ever shipped with a phone. You can expect apps like Google Sheets, Slides or Docs also included as part of this package.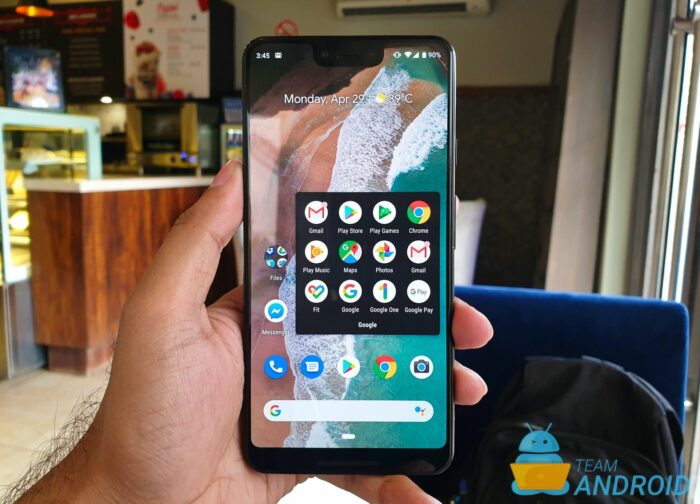 Top questions
Expand all
Collapse all
What is the difference between Google Hangouts, Hangouts Meet, and Google Meet?

Hangouts Meet and Hangouts Chat were rebranded to Google Meet and Google Chat in April 2020. We announced in 2019 that we would be migrating all classic Hangouts users to the new Meet and Chat products. In order to provide enterprise-grade online video conferencing to everyone, we announced a free version of Google Meet in May 2020.
Is Google Meet safe?

Yes. Meet takes advantage of Google Cloud's secure-by-design infrastructure to help protect your data and safeguard your privacy. You can learn about our privacy commitments, counter-abuse measures and data protection here.
Is Google Meet free?

Anyone with a Google Account can create a video meeting, invite up to 100 participants, and meet for up to 60 minutes per meeting (through September 30th, free users can host meetings for up to 24 hours per meeting) for free. For additional features such as international dial-in numbers, meeting recording, live streaming, and administrative controls, see plans and pricing.
Do Google Meet links expire?

A meeting link remains active until the meeting has ended. Meeting links for recurring meetings will stay active for as long as the event repeats.
Is Google Meet compliant with my industry requirements?

Our products, including Google Meet, regularly undergo independent verification of their security, privacy, and compliance controls, achieving certifications, attestations of compliance, or audit reports against standards around the world. Our global list of certifications and attestations can be found here.
My organization uses G Suite. Why don't I see Google Meet in Calendar?

IT administrators control G Suite settings, such as whether Google Meet is the default video conferencing solution in Google Calendar. Visit the G Suite Admin Help Center to learn how to activate Google Meet in your organization.
Manage your child's app permissions
Use Family Link to manage the apps available on your child's device:
Block or limit access on your child's device 
Control their ability to view an app
Limit content on a child's phone
To manage your child's app permissions, your child must be using:
An Android device (running Android 6.0 or higher)
A Chromebook (running Chrome OS version 71 or higher)
Both parents and your child can manage app permissions. If you want, you can prevent your child from changing their app permissions.
Important: If you turn some permissions off, certain apps might not work correctly.
Choose permissions for a certain app
If your child uses multiple devices, repeat these steps to choose their permissions for each device.
Open the Family Link app .
Select your child.
On the «Apps installed» card, tap More.
On the «Allowed» list, tap the app you want to change your child's permissions for.
Tap App permissions.
Switch the permission on or off.
Change a permission across multiple apps
Open the Family Link app .
Select your child.
On the «Device» card, tap Settings  App permissions.
Tap a permission.
Below your child's device, switch the permission on or off.
Tip: You can also manage your child's account by clicking on your child's name at families.google.com.
Prevent your child from changing their own app permissions
Open the Family Link app .
Select your child.
On the «Device» card, tap View settings  App permissions.
Tap a permission.
Select Only parents or Your child and parents. If you select «Only parents,» your child won't be able to give that permission for any new or existing app. However, it doesn't change permissions that have already been granted. 
Tip: You can also manage your child's account by clicking on your child's name at families.google.com.
How it works
Unlike most Google Ads campaigns, you don't design individual ads for App campaigns. Instead, we'll use your ad text ideas and assets, including assets from your app's store listing to design a variety of ads across several formats and networks. To get started, you'll need to do provide some text, a starting bid and budget, and let us know the languages and locations for your ads. We also strongly recommend that you provide at least one landscape image, one portrait video, and one landscape video, and where relevant, HTML5 assets. Our systems will test different asset combinations and serve ads that are performing the best more often, with no extra work needed from you.
To help you get the best value from each download, Google Ads also automates targeting and bidding. You can optimize your campaign targeting to focus on finding valuable users based on actions you care about, like in-app conversions.
App ads are generated on the fly by our system. To build your ads, Google Ads may combine text, image, video, or HTML5 assets you upload, or assets from your app's listing in the relevant application store. The system rotates your ads and adjusts bids automatically to get the most downloads for your app that meet your optimization objective, whether that objective is installs, app conversions, or target return on ad spend (tROAS). For example, if one line of text is performing better than another, the system will «learn» to show the better text more often. Learn more About ads in App campaigns.
How to Install GApps on Android 10 custom ROM?
All of the Gapps for Android 10 are built in a zip file format which is designed to be flashed through TWRP recovery or any custom recovery.
This GApps is only for Android 10 based custom ROMs. Installing this GApps on any other Android custom ROM may result in bootloop.
Below is a step by step guide to install GApps on Android 10:
Download and copy the Android 10 GApps zip file to your phone.
Restart your phone into TWRP recovery mode.

– You may power off and press the appropriate key combination on your phone to boot into recovery mode.

Select Install from TWRP home screen, then navigate to the directory where you have kept the Android 10 GApps zip file and then select the GApps zip file and slide the Swipe to Confirm Flash on TWRP screen to install the GApps.
Wait for TWRP to install the Google Apps (GApps).
Once the flashing is done just reboot your phone, setup Google account and ENJOY.
That's all on this GApps download article for Android 10 based custom ROMs. If you find some GApps is not working or find some GApps which is not included in this post, then, please take a step forward to add a link in the comments section. I will verify and out the link into this list as early as possible.
If you are facing any issues while installing GApps on Android 10 custom ROM then just login and leave a comment with the problem details to get an instant reply. Stay tuned for more Android 10 updates.
Описание
Google Play Store (другие названия – Google Play или Play Market – официальный магазин приложений от компании Google. Для установки данной программы вам потребуется смартфон на платформе iOS или Android версии 4.0.1 или выше.
Play Market – это хранилище бесплатных и платных приложений, игр, видео, музыки и т.д. Каждую из категорий, в свою очередь, можно отсортировать по нескольким критериям. Несмотря на то, что Play Market позиционирует себя, как магазин, большинство контента в нем бесплатно.
Для работы с Play Market вам сначала нужно зарегистрироваться в сервисе Google. Если у вас уже имеется такой аккаунт, дополнительная регистрация не требуется. Выполнив вход, вы сразу же получаете доступ к почти 3 миллионам приложений, игр и видео.
Преимущества регистрации в Google Play Store
Сам процесс регистрации в Play Market – стандартный. Вы указываете электронную почту, придумываете пароль, подтверждаете с помощью капчи, что вы – живой человек. После этого вам на указанный электронный адрес приходит письмо с подтверждением регистрации (как правило, ссылка по которой нужно перейти), и регистрация на этом заканчивается.
При входе в приложение вам будут предлагать добавить кредитную карту для оплаты, если вы не собираетесь использовать PlayMarket для покупки платного контента, этот шаг можно пропустить.
Если вы все же хотите приобрести одну из программ в Google Play Store, вы можете использовать для этого как обычные кредитные или дебетовые карты, так и электронные кошельки G-Pay или PayPal. Кроме этого, купить приложения или другой контент можно с помощью специальных промокодов или подарочных сертификатов.
Процесс скачивания приложений в PlayMarket очень простой. Вы можете найти нужный контент в одной из множества категорий, можете же воспользоваться функцией поиска. Введите название приложения в верхней части экрана, и приложение найдет необходимую вам программу или видео
Обратите внимание, что по умолчанию приложение работает только при подключении к Wi-Fi, впрочем, это можно легко поменять, перейдя в настройки
Периодически приложение будет предлагать установку обновлений, которыми не нужно пренебрегать, ведь, устанавливая их, вы не только получаете доступ к новому интерфейсу и контенту, но и способствуете корректной работе самого приложения. Установить его бесплатно на свой смартфон можно, нажав кнопку "Скачать" вверху сайта.
Google Play Store на APKshki.com скачали 3947 раз. Google Play Store распространяется бесплатно в расширении apk.
Все приложения и игры на нашем сайте проходят обязательную проверку антивирусом с последними сигнатурами.
Если обнаружился вирус: antivirus@apkshki.com.
Если хотите разместить приложение или игру add@apkshki.com.
Добавить описание:
support@apkshki.com с пометкой добавить описание.
Скриншоты
Возможности бесплатной версии
  |   Свернуть все
Основные сервисы и функции
Обмен сообщениями: Gmail, Календарь, Контакты
Хранение данных и совместная работа: Диск, Документы, Meet
Другие сервисы Google: Blogger, YouTube и т. д.
Использование и поддержка
Максимальное количество пользователей: 10
Объем хранилища для почты, документов и изображений на одного пользователя: 15 ГБ
Видеоконференции
Использование электронной почты
Объем хранилища для почты (общий для документов и изображений): 15 ГБ
Максимальный размер прикрепленных файлов: 25 МБ
Максимальное число получателей сообщения: 500
Максимальное число получателей в день для одного пользователя (вне домена): 500
Адреса и списки рассылки
Ваш корпоративный адрес электронной почты (vasheimya@vashakompaniya.ru)
Дополнительные адреса электронной почты (prodazhi@vashakompaniya.ru)
Адреса в нескольких доменах (vasheimya@kompaniya2.com)
Списки рассылки (управляются администратором)
Бренд вашей компании
Персонализированный адрес электронной почты (vasheimya@vashakompaniya.ru)
Отключение рекламы в Gmail
Адреса в нескольких доменах (vasheimya@kompaniya2.com)
Только псевдонимы доменов, а не дополнительные домены
Средства обеспечения безопасности и управления доменом
Мониторинг надежности пароля
Двухэтапная аутентификация
Система единого входа
Включение SSL-соединений
Средства обеспечения безопасности и управления электронной почтой
Фильтрация спама и блокировка вирусов
Отключение рекламы в Gmail
Контакты, списки и группы
Списки рассылки (управляются администратором)
Глобальный каталог (внутренние контакты)
Доступность
Поддерживаемые браузеры
Мобильные телефоны и планшеты
Почта и редакторы Документов в офлайн-режиме
Поддержка IMAP и POP
Перенос данных
Перенос почты, контактов и данных календаря из Microsoft Exchange, IBM Notes и других служб веб-почты
Перенос данных из веб-почты
Другие параметры доставки электронной почты
Адрес для приема всей почты домена
Сервер ретранслятора исходящих сообщений (для альтернативных адресов отправителя)

Получение почты с нескольких адресов POP (Сборщик писем)
Версии для учебных заведений и некоммерческих организаций
Учебные заведения, государственные и некоммерческие организации могут бесплатно пользоваться возможностями G Suite Basic, перейдя на версию G Suite for Education или G Suite for Nonprofits. Если вы уже работаете с одной из этих версий, изменения в политике на вас не повлияют.
Подробная информация:
G Suite for Education
G Suite for Nonprofits
Другие способы получить бесплатную электронную почту
Вы можете бесплатно создать личный аккаунт Google, чтобы использовать Gmail. При этом нельзя будет выбрать адрес в своем домене вида vasheimya@vashakompaniya.ru. Ваш адрес будет заканчиваться на @gmail.com. Кроме того, вы не сможете администрировать работу с электронной почтой в пределах своей организации.