Androrat apk and binder latest 2019 for android
Androrat Binder Download
Androrat binder download creates and binds the apk for your victim machine. You can create a simple androrat apk by just entering your simple information which are shown in the androrat tutorial you can follow. Just fill out the fields and you have APK for your victim to install in their phone. To get around the fear of being captured by the victim for suspicious installation activity, Androrat Binder have a great feature to bind the androrat apk with any other regular apps like WhatsApp etc. In this way, you just simply send the binded app to the victim and he even won't be able to see that it's binded with your androrat apk and when he installs that WhatsApp apk you sent them, your binded androrat apk will automatically get installed.
This was developed by the university students as a part of their project which went beyond that university project, and got popular in hacking smartphones remotely with androrat.

Features
Windows payload can load the entire Python interpreter from memory using a reflective DLL.

Pupy does not touch the disk.

Can be packed into a single .py file and run without any dependencies other than the python standard library on all OSes.

PyCrypto gets replaced by pure Python AES & RSA implementations when unavailable.

Reflectively migrate into other processes.

Remotely import pure python packages (.py, .pyc) and compiled python C extensions (.pyd, .so) from memory.

Imported python modules do not touch the disk.

Easily extensible, modules are simple to write and are sorted by os and category.

Modules can directly access python objects on the remote client using rpyc.

Access remote objects interactively from the pupy shell and get auto-completion of remote attributes.

Communication transports are modular and stackable. Exfiltrate data using HTTP over HTTP over AES over XOR, or any combination of the available transports.

Execute noninteractive commands on multiple hosts at once.

Commands and scripts running on remote hosts are interruptible.

Auto-completion for commands and arguments.

Custom config can be defined: command aliases, modules. automatically run at connection, etc.

Open interactive python shells with auto-completion on the all-in-memory remote python interpreter.

Interactive shells (cmd.exe, /bin/bash, etc) can be opened remotely.

Remote shells on Unix & Windows clients have a real tty with all keyboard signals working just like an SSH shell.

Execute PE executable remotely and from memory.

Generate payloads in various formats:
| Format | Architecture | Short Name |
| --- | --- | --- |
| Android Package | x86 & ARMv7 | apk |
| Linux Binary | x86 | lin_x86 |
| Linux Binary | x64 | lin_x64 |
| Linux Shared Object | x86 | so_x86 |
| Linux Shared Object | x64 | so_x64 |
| Windows PE Executable | x86 | exe_x86 |
| Windows PE Executable | x64 | exe_x64 |
| Windows DLL | x86 | dll_x86 |
| Windows DLL | x64 | dll_x64 |
| Python Script | x86 & x64 | py |
| PyInstaller | x86 & x64 | pyinst |
| Python Oneliner | x86 & x64 | py_oneliner |
| Powershell | x86 & x64 | ps1 |
| Powershell Oneliner | x86 & x64 | ps1_oneliner |
| Ducky Script | N/A | rubber_ducky |
Deploy in memory from a single command line using python or powershell one-liners.

Embed «scriptlets» in generated payloads to perform some tasks «offline» without needing network connectivity (ex: start keylogger, add persistence, execute custom python script, check_vm, etc.)

Multiple Target Platforms:
| Platform | Support Status |
| --- | --- |
| Windows XP | Supported |
| Windows 7 | Supported |
| Windows 8 | Supported |
| Windows 10 | Supported |
| Linux | Supported |
| Mac OSX | Limited Support |
| Android | Limited Support |
How to use AndroRAT (Step-by-Step Tutorial)
Now we are going to discuss the steps in which we are going to use the AndroRAT to hack an Android device or Android Phone. These steps are enlisted below:
First Step:
If you are trying to use the Router Port Forwarder for knowing the IPv4 Address, with which you can find your own IP Address by opening the Command Prompt also known as the CMD. When you have opened the CMD all you have to do is type ipconfig and then simply hit the enter button, then copy your IPv4 address.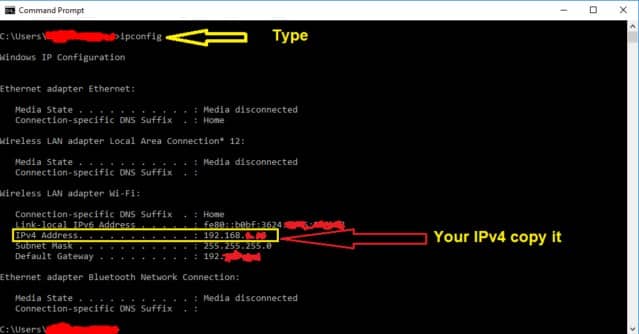 Second Step:
You simply have to install the Router port forwarder and after installing open it by double-clicking on its icon. The first thing it will do is detect your router, when it's done you just have to click on add button then you just have to give it a name, you have to leave the Protocol as same as the TCP, then simply just select any Port e.g. 8086, and then at the end, you will just have to enter your IPv4 Address.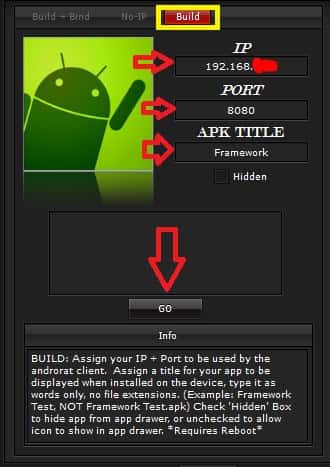 Third Step:
Now all you have to do is just find an app that is going to be installed on the Android Phone which you are going to use or control with your PC or Laptop. You can create your own application by just simply using the AndroRAT APK Binder. Now you have to go to the folder named AndroRAT and then you have to open the AndroRAT Binder. Then you have to choose the Build option through which you can create your own fake application, you can also bind your own fake application with the help of Bind+Build option which can be done with the help of other applications.
Read: How to Hack PUBG Mobile Game (Aimbot, Wallhack, Cheat codes)
But in my example, I am going to use and create the Android App using the standalone technique.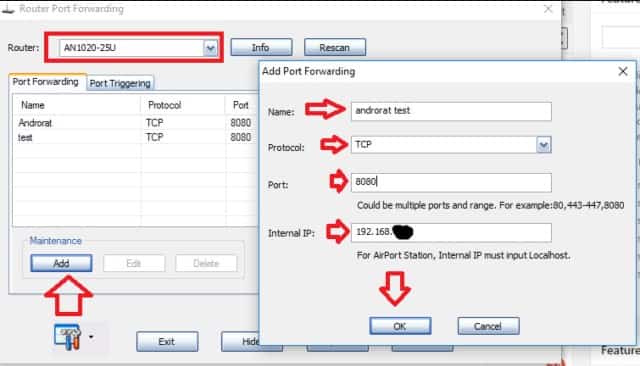 The first thing you have to do is to enter the IPv4 Address and the PORT which we found above by using the Router Port Forwarding; then you merely have to click GO and then all you have to do is wait till the process has finished creating the APK file.
Fourth Step:
Now you can completely control the Android Phone in which you installed the application that you just created using the AndroRAT, go to the AndroRAT folder open it and just easily launch or run the AndroRAT server application. Then go to the server tab and then select the Select Port option. Then you have to enter again the Port Forwarding which you used before. Then restart the application by opening it and closing it.
Read: 11 Best WiFi Hacker Apps for Android.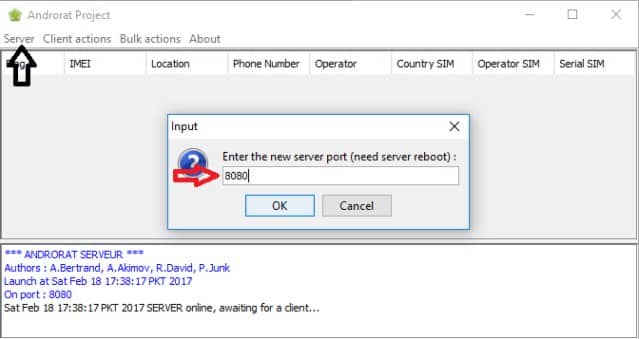 Once you have performed the top step, you will have to wait for the application to connect the Android Phone which you attacked using AndroRAT.
Once it has finished connecting, then you have to select the targeted Android Phone displayed in the window of the application. Then you have to choose the desired device which you want to connect. After that, you have to click on the Client tab, and then you have to choose the option named Open User Interface.
When your PC or Laptop is connected with the targeted Android phone then you can see all of the complete information about that mobile device. At the top of the main window to the application there are three options:
Get Android Data: from this option, you gain complete access to the Microphone, Camera and you can easily fetch all of the contacts and SMS from the targeted Android Phone, etc.
Send Command: With the help of this option you can quickly send the fake message to the targeted phone. You can also make calls from that phone or SMS to the number which is even not available within the Phone's Contact book or list.
Monitoring: last but not the least option is the Monitoring through which you can thoroughly monitor all of the incoming, outgoing and missed calls from that phone. The same goes for the SMS option which is available within the Phone.
Read: Top 5 Best Ways to Secure your Android Smartphone.
Androrat GUI Interface
Androrat is a GUI (Graphical User Interface) tool which is very simple and easy to work with. A simple double-click on a client open his window to interact with any of the connected client. All the connected clients appears in a window like shown below. This client list automatically gets updated when a new user connects or is disconnected. In the log panel beneath the client list, shows all the connection logs.
Following screenshot shows what you can do with a connected user. You can play with a plenty of options to a remote device, available in the client window which is articulated around tabs. All the commands are categorized in the top tabbed menu. The default tab is called Home and provide various functionalities. First as we can see in the left scroll view all the information about the client like carrier information, battery status, network detailed status, sensors status etc. On the right there is the option which allow remotely to change the configuration of the client like the ip and port to connect to, either or not wait a trigger to intent server connection etc. Finally quick actions can be performed in this tab like a toast message, do vibrate the phone or open an URL.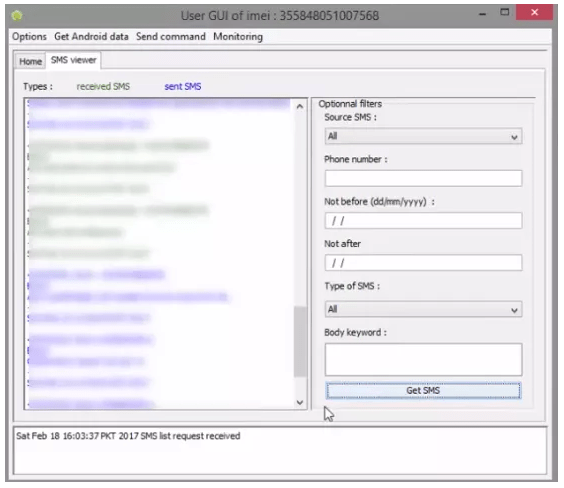 AndroRAT Features
AndroRat is not only for hacking the Android devices but it can also be used to hack the MAC and Windows platforms. RAT can also be used to communicate with the control and command server which is already being controlled by the attacker and it can complete various different commands which can be used to steal all of the attacked user's personal information and data.
A few of these commands are simply stealing your personal messages from the inbox, GPS location, Contact list, your personal files, Wi-Fi password and much more. This software can also be used to upload files to any device, record video, capture screen, and even record video.
There is also an implanted AndroRAT that allows an attacker to remotely control the whole device and also it's other things such as monitoring and making messages and calls, access all of the stored files and activate the device's camera and microphone. All of these functions can be used anytime without any knowledge of the targeted user.
Quick Links
Action (3)
Adventure (1)
Apps (737)

Art & Design (2)
Business (12)
Casual (2)
Communication (4)
Education (16)
Free Maps & Navigation APP (1)
Health & Fitness (6)
Maps & Navigation (1)
Photography (7)
Sports (6)
Travel & Local (1)
Video Players & Editors (14)

Blog (17)
Board (2)
Entertainment (170)
Finance (3)
Food & Drink (2)
Free Casual Game (1)
Games (108)

Card (3)
Casino (1)
Free Adventure Game (1)
Game Hacking (23)
Role Playing (2)
Trivia (1)

Hacking Apps (26)
Home Page (9)
Infinix (2)
Lifestyle (3)
Liker (5)
Medical (1)
News & Magazines (3)
Personalization (5)
Productivity (12)
Realme (1)
Shopping (2)
Simulation (5)
Smartphones (18)

Huawei (4)
Samsung (2)
Vivo (6)
Xiaomi (6)

Social

Free Social APP (1)

(68)

Tools (235)
Weather (1)
WIFI Hacking (4)
What is Androrat or Android rat?
Androrat (Android Remote Administration Tool) is a client/server application written in Java which is the base language of Andriod. It can be used in the target phone as a Client-side Andriod app and on the hacker's computer as a server-side application. The Client application which is called Androrat APK is written in java Andriod and the server application is written using Java/Swing.
In short, it is a client/server application by using it you can get the full control of the targeted Andriod phone remotely using your computer.
Note: Video tutorial is included at the end of the post.
To hack android phone remotely all you need to do is install a lightweight Andriod app on the victims Andriod phone, you will learn to generate your own application APK using Androrat Apk Binder. The Apk Binder also gives you the option to bind the client app with other famous Andriod applications, so it can run anonymously without letting the victim noticed.
Disclaimer: This tutorial has been made for educational purposes only, Geekviews don't promote malicious practices and will not be responsible for any illegal activities. Use it at your own risk.
By successfully configuring the application on your computer and installing the android app apk generated by Androrat binder on the target Andriod phone you will able to perform the following operations directly from your computer when the targeted Andriod phone connects to the internet:
Get contacts and all their information.
Do vibrate the phone
Get call logs(History)
Open a URL in the default browser
Get all messages
Send a text message
Location by GPS/Network
Do a toast
Monitoring received messages in live
Streaming video (for activity based client only)
Monitoring phone state in live (call received, call sent, call missed..)
Stream sound from the microphone (or other sources..)
Take a picture with the camera
Materials required to use Androrat to hack Andriod phone remotely:
Before starting this tutorial first check out these materials:
A computer desktop/laptop.
Antivirus and firewall must be turned off.
A wireless router.
Fast internet connection
An Andriod phone to deploy the client app.

Download AndroRat Full Version: Androrat setup and Androrat binder Download Here , extract it using Winrar, it will ask you for a password which is:0000

Router Port forwarder
FAQ
Pupy has not been tested on Windows. Theoretically, it should work on any platform that supports Docker and Docker Compose. However, you will need to adapt the Docker Compose installation instructions for the Windows platform.
Please refer to the wiki. It is possible that your answer is there.
Search the Github issues and see if your issue was already solved.
If you issue was not solved, open a new issue following the issue guidelines.
If you do not follow these steps, you issue will be closed.
Pupy has limited support for Android and OSX. These platforms may not be well maintained and may break intermittently. Some modules (i.e. keylogger) may be missing for these platforms.
Download Androrat for Android – Androrat Download
Androrat download in complete androrat setup download available. Just download and extract setup to start working with it. It contains all the necessary components of the it, including androrat apk and androrat binder in it.
Click here to download androrat full version or you can check the github project here.
You can explore the list of top android hacking apps of 2020.
How does Androrat works? Android RAT Working
As we discussed in detail about the features of Androrat. It's newer version is capable to take over android device remotely with the root exploits and Remote Code Execution Vulnerability. It is capable of exploiting the most harmful vulnerabilities to the target device. So, how does it works?
Build an APK through Androrat APK Binder.
Send that APK to target user.
Once they install the application to their device, their device will appear up on your computer in AndroRAT client panel.
From the client panel, you will be able to perform various operations on the target smartphone like fetching messages, contacts, logs, media and many others.
What makes AndroRAT special over the other Android RATs?
Androrat takes control of the connected device and can do anything with it remotely like stealing confidential information and sensitive data. That's not the only thing, even it gives attacker access to victim files, messages and even GPS location of the user.
Some of the powerful things about Androrat are; it can capture the photos and videos from the victim's remote cam and can spy the voice through audio mic as well.
How to prevent smartphone being hacked by this Android RAT?
To be on the safe side, make sure to install the apps from the known sources like PlayStore. Do not install apps from any unknown sources.
Secondly, do not forget to install any malware removal tool and antivirus to your smartphone. Additionally, keep your software version up to date with the latest updates for the enhanced security measures.